NFL Hires Atlanta R&B Group For Super Bowl LIII, But There's A Catch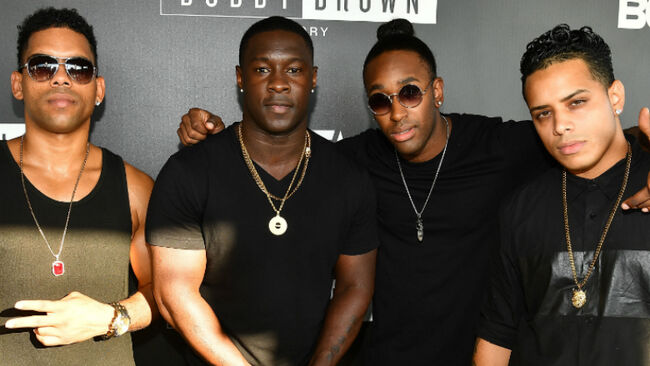 The National Football League has finally heard Atlanta artists' cries (well, sort of) — they're booking an ATL-based music act for Super Bowl LIII. However, there is one catch, it's not for the Super Bowl halftime show.
According to TMZ, R&B group Final Draft will be a sort of "side act" for next year's game, which is being held at Atlanta's Mercedes-Benz Stadium. Final Draft will reportedly perform at the Players Tailgate party, about 3 blocks away from the stadium, and the GameDay Fan Plaza, which is inside the stadium.
Maroon 5 is slated to headline the halftime show — a decision that drew criticism from many fans and Atlanta-born artists. Many expressed their disappointment in the NFL's decision to choose a non-Atlanta-born artist, given that the city has produced some of the biggest names in music.
One of the most outspoken Super Bowl LIII halftime show critics has been Waka Flocka Flame, who expressed his frustration about the naming of Maroon 5 as headliners in August. "I think for the Super Bowl you should have someone from Atlanta representing Atlanta," the "Hard in the Paint" rapper told TMZ. "Just because the Super Bowl's here so we could give them that spice." Speaking of spice, the 32-year-old rapper gave some suggestions of Atlanta-born artists he believes would make great Super Bowl performers. "I think they should have somebody like Migos, Future," he added. "I could come play 'Hard in da Paint.' They need somebody from Atlanta in there. It's only right."
The Atlanta rapper continued, saying he felt the NFL's decision was a slap to the "majority of its players'" culture since the league is predominately black. "You coming to 'the biggest black state in America,' " he said. "Why won't you let a black artist perform? And show the world we're progressing."
Before ending his interview, Waka made sure to let it be known that his comments were not a direct attack at Maroon 5, but rather the NFL, who chose to not embrace Atlanta's culture. "Maroon 5 is legend," he said, "but let's be real you need Migos on there. I'll feel better if Migos is on there."
I wonder what Waka will think of Final Draft's involvement with Super Bowl LIII?
Photo: Getty Images